Why People Love
Celebration Ministry Staffing
---
Don't simply take us at our word. Here's what other churches and candidates are saying about partnering with us.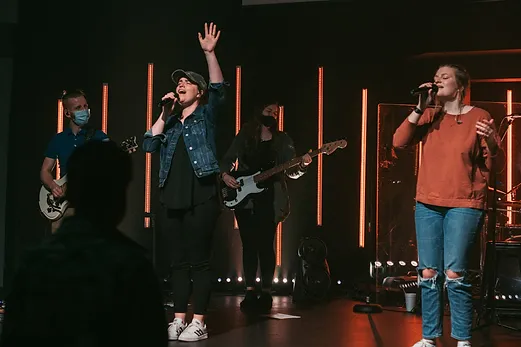 Being one of the first to employ Celebration Ministry Staffing for our Worship Pastor search, I was blown away by their superior level of communication, follow through, and the quality of the candidates they presented! And….they were fun to work with! Thank you for a job well done!
Doug Page, Senior Pastor
First Baptist Church, Grapevine, TX
My experience has been that the search for a Worship Pastor can be complex and difficult. During a global pandemic, it felt impossible and overwhelming. That's when Celebration Ministry Staffing came into my life. They found us quality candidates. CMS did an excellent job providing me resources to review on each candidate, including; videos, resumes, personality testing and more. Their hosting of interviews was excellent. Their consultation before and after interviews was a great asset to the process. The teamwork with the CMS staff gave me the confidence we would accomplish goals. I'll never do this by myself again.
James Clark, Senior Pastor
First Baptist Church, Tomball, TX
Staff searches are always difficult and time consuming. When I heard about Celebration Ministry Staffing and their approach to staffing, it was an answer to prayer. CMS has been a huge blessing. They listened, asked great questions, challenged, and delivered a list of qualified worship pastor candidates who all would have fit our staff team and church. The amount of time saved and the precision of the search was well worth the financial investment.
James Taylor, Lead Pastor
Red Lane Baptist Church, Powhatan, VA
Finding staff is one of the most important and yet difficult tasks any Church faces. CMS has helped guide our Church through the process of finding a Worship Pastor with poise, professionalism, and passion. Their understanding of a Church's needs and ability to find quality candidates is second to none. Their relational acumen has been demonstrated through both our Church and new Worship Pastor. I cannot recommend Celebration Ministry Staffing highly enough.
Carlton Binkley, Senior Pastor
Tabernacle Baptist Church, Decatur, IL
Before working with Celebration Ministry Staffing, I was so frustrated in looking for qualified and competent Worship Pastors. CMS has taken the time to get to know me, the Church, and the vision we have for our Worship Ministry. They have presented top quality candidates for consideration and have walked closely with our search team through every step of the process. I cannot recommend CMS highly enough for your Worship Pastor Search.
Reid Terry, Senior Pastor
Lonoke Baptist Church, Lonoke, AR
When we needed a Worship Pastor we knew we wanted a national search and candidates that were highly recommended by other Worship Pastors. CMS provided exactly what we needed and quickly! In just a few short weeks we were reviewing and interviewing candidates! The resumes kept coming until we found God's man for our church. Great insight, communication and support from CMS. They truly had our best interest at heart. Very happy with our results!
Greg Branson, Senior Pastor
London Bridge Baptist Church, Virginia Beach, VA
I initially hesitated to use a staffing agency because of the cost, but after wasting tons of money to find unqualified candidates online, I reached out to CMS. It was such a relief to be presented, right off the bat, with multiple great candidates. They worked with our unique requirements to find a truly exceptional candidate who matched our church and context perfectly. The best part about the whole process was working with someone who truly has a heart for the Lord and the lost. I can't recommend them enough!
Jared Kirk, Lead Pastor
Renewal Church, Boston, MA
Celebration Ministry Staffing was an invaluable asset to our search in terms of time and their ability to fully vet the candidates. We were impressed by the thoroughness and professionalism of their service. I personally appreciated their expertise in behavioral recognition and evaluation.
Neal Presley, Deacon/Chairman of the Pastor Search Committee
First Baptist Church Opp, AL
I highly recommend Celebration Ministry Staffing! We completed the traditional search for a new Minister of Worship Arts on our own and came to a dead end. Then we contracted with CMS. When CMS sent us the first batch of candidates, the musical quality of candidates immediately went up a notch for us. We were delighted that CMS had done the research and prepared easy-to-use packets of information (intro video, resume, references, and videos of each candidate leading worship). After praying through the candidates provided, CMS facilitated all the logistics of setting up Zoom interviews and more. We ended up with an incredible new Minister of Worship Arts. We would very likely not have found our man had we not contracted with CMS. Our church and the rest of our staff are very excited about the next chapter in the life of our church!
Ronny Cooksey, Senior Pastor
Sandia Baptist Church, Albuquerque, NM
In the middle of this pandemic, I wasn't sure how to conduct a search for a new Worship Pastor. I am so thankful a dear friend of our church recommended Celebration Ministry Staffing. Over my 35 years as a Senior Pastor, I have conducted many searches for new staff members, and none were as smooth of a process as this one. The team at CMS conducted a thorough, efficient, and expedited search for us. Within just a few weeks we were presented several outstanding candidates who would be a great fit for our church. We are thrilled with the outcome! Thank you, Phil Barfoot, for your ministry to our congregation!
Will Langford, Senior Pastor
Great Bridge Baptist Church, Chesapeake, VA
Celebration Ministry Staffing served as a great partner for Austin Baptist Church! We were very pleased with the level of communication and commitment that we received from the entire CMS team. They listened to our specific needs and served as great advisors throughout the process. We were impressed by the quality of candidates that were presented, as well as how quickly the entire process went. Thank you CMS for broadening our reach and helping us find the right man to serve as our next Worship Pastor!
Jonathan Spencer, Senior Pastor
Austin Baptist Church, Austin, TX
Celebration Ministry Staffing helped me fill a campus Worship Leader position in record time! Working with CMS through this process was top shelf. They did all the leg work with finding top candidates that fit the description of what we were looking for and not only found candidates but found Worship Leaders that would be a fit and match for the particular environment and area we were needing to fill. I would highly recommend any church looking to fill a position to use Celebration Ministry Staffing.
Jason Millsaps, Pastor of Music & Worship
Bell Shoals Baptist Church, Brandon, FL
Celebration Ministry Staffing and Phil Barfoot were absolutely a God-send! Working with Phil and Roger Breland made a difficult search a much easier, simpler, and enjoyable process. The church and I are more than pleased with CMS and would highly recommend their services to any church!
Dr. Chris Winford, Senior Pastor
First Baptist Church, Brunswick, GA
Let me take a moment to say thank you for all you and Celebration Ministry Staffing have done to make this such a smooth process! This has, by far, been the easiest and most enjoyable search process I have ever experienced. Your team has been phenomenal. I am very grateful for your ministry and how you are serving the kingdom!
Joel Carter, Executive Pastor
First Baptist Church, Bay Minette, AL
We had a wonderful experience with Phil and the Celebration Ministry Staffing team! Their prayerful focus, relational approach, strategic process and identification of many quality candidates was impressive. Most importantly, their process led us to discover the Worship Pastor God had set apart and called for our next season of ministry. Thank you Phil for the excellent process!
Chad Moore, Senior Pastor
The Church at LifePark, Mt. Pleasant, SC
Finding new staff can be nerve-racking, time-consuming, and stressful. Seems like that it's doubled when you're talking about finding the right person to shepherd the worship ministry of a church. Thankfully, CMS helped us find God's man for the job! Hardworking, conscientious, knowledgeable, and connected are words to describe the CMS team. Always with a smile and prayer, they worked tirelessly on our behalf until the job was done!
Gregg Matte, Senior Pastor
Houston's First Baptist Church, Houston, TX
In January of 2021 our Minister of Worship Arts moved to serve at another church. Our church elected a great Search Committee representing a good cross-section of our church family. We began the search process as we have done in the past, posting the position at seminaries, universities, and denominational websites. In addition, I networked with other ministers I knew in similar churches as ours. For six months we struggled to get qualified candidates that we felt would fit our church. In mid-summer we made the decision to engage Phil Barfoot and Celebration Ministry Staffing. We knew of Phil's long-time ministry in Worship Arts, he was a Southern Baptist and knew Southern Baptist culture and was very enthusiastic about partnering with us to find God's person for our church. In the past, I had been skeptical about using a staffing firm because I thought, "Where is the Lord in that?" It just seemed like too much of a secular approach until Phil explained what they did, and how they went about doing it. Their process is bathed in prayer and dependent totally upon the Holy Spirit in the process. I was surprised at the extent to which they got to know West Conroe, and the process they went through with each candidate before suggesting them to us. Our Search Committee was also skeptical because they felt they were abdicating their responsibility to the church, until they realized they would still be doing everything they had to do with a traditional search approach. The exception was that now we had a very connected, seasoned partner to help us find candidates.
Let me just say as a senior pastor of a moderately large church, Phil Barfoot and Celebration Staffing Ministries were a gift from God to our church. Not only did Phil help directly in finding qualified candidates, but he gave of himself often to encourage and lift up our committee when they felt we would never find the right man. By the way, we have found God's man, and he is on board in a church that has fallen in love with him and his family. When I had him interview with our senior staff, the feedback I got from them was, "He fits us." "He's one of us." If you are looking for any staff member, not just a worship pastor, let me recommend without reservation Phil Barfoot and Celebration Ministry Staffing. You know, as well as I, how critical it is to have a healthy staff that is moving forward together to accomplish the vision God has given you for His church. If you want any more information, feel free to contact me. I would be happy to share more how Phil and CMS blessed us.
Dr. Jay Gross, Senior Pastor
West Conroe Baptist Church, Conroe, TX
What a genuine pleasure it was to work with Celebration Ministry Staffing. We were looking for TWO Pastoral positions at one time. That was no issue at all for Celebration.
This team was thorough, professional and efficient. Instead of just simply pulling names off the Internet or a job search site, they used modern technology, a wealth of personal connections, and a network of relationships to find thoroughly qualified candidates. I knew as soon as I received the first submission of candidates that they were different than other groups we have used previously. Each candidate seemed more in line with who we were as a church and the direction we were headed in. We were actually able to go through multiple candidates that could have been good fits for our church and seek God for His leadership in selecting and interviewing the BEST fit for us.
Kathy King, who I worked with the most personally, was an absolute joy and pleasure to work with. It was obvious she was not just "filling a position" but was searching and seeking the mind of God for our church.
I would strongly encourage others to utilize this great resource within the Christian family when you have staffing needs for your church.
Dr. Jack Millwood, Lead Pastor
Crosswater Community Church, Ponte Vedra, FL
Partnering with Celebration Ministry Staffing has proven to be a great experience. Phil and the staffing team were very attentive to our needs and interests in the process. Additionally, there was a steady flow of communication and resourcing throughout the experience. Celebration Ministry Staffing provided our search team with highly qualified candidates from which to prayerfully consider as our Worship Pastor. I highly recommend CMS as a partner for filling staff vacancies.
Chip Starnes, Senior Pastor
First Baptist Church, Bay Minette, AL
"In a day of ever increasing complexities and challenges, there is little doubt and debate that at the top of the list for church leaders it is locating Godly and gifted staff members. Celebration Ministry Staffing was an answer to prayer for us and they bring integrity and insight to the process that makes them unique in so many ways. I cannot recommend CMS and specifically Kathy King enough if you are searching for staff and team members. Call them today, you will be glad you did."
Jeff LaBorg, Lead Pastor
Fairview Baptist Church, Corryton, TN